OUR COVID-19 VACCINE PLAN: OUR RESIDENTS AND STAFF ARE OUR PRIORITY!
Our Covid-19 Vaccine Plan: Our Residents and Staff are Our Priority!
Cogir Senior Living Vaccination Update:
Cogir Senior Living is excited to bring you the latest information regarding the Covid-19 Vaccination Roll out to our communities. We have partnered with CVS Pharmacy and Pfizer Pharmaceuticals to provide onsite clinics for our residents and staff beginning the week of January 11th. To begin with, there will be 3 consecutive clinics approximately 3 weeks apart. How this will work is that everyone who is signed up for the first injection will receive it at the first clinic. At the second clinic, 28 days later, all first round residents and staff who received the first injection will now receive the second one. All residents and staff who were not at the community at the time of the first clinic will receive their first injection at the second clinic in early February, followed by a third clinic to administer the second injection in late February. CVS will continue to hold clinics at each of our communities until we have administered all vaccines to all staff and residents.
This is a once in a lifetime opportunity to be prioritized with the Pfizer Vaccine that has the efficacy rate of 95% against Covid-19. At this time, the timeline for the general public to receive the vaccine is late spring or early summer.
Until we are told by the department of health that we are now considered a safe and Covid resistant community, we will continue to wear our masks, sanitize and social distance until that time.
For more local information such as exact dates and times of our clinics, please refer to any of our 17 Cogir Senior Living Communities. You may also find the most recent and updated information on our Blog.
The Importance of Safety: Responding to COVID-19
For residents, families and staff, the novel coronavirus has created so many unknowns. But one thing is certain: we must do everything in our power to ensure the safety of our existing and incoming residents, their families and our staff. That's why we follow federal, state, and local COVID-19 guidelines for assisted living communities. Necessary measures include eliminating all nonessential visits, ensuring social distancing and increasing medical, food, and service supplies on hand. Training and testing staff members on infection control best practices is a high priority, with a focus on expert guidance from organizations like the CDC. At COGIR Senior Living communities, we adhere to their recommendations for assisted living facilities to protect residents and staff from COVID-19. Key guidelines include:

Wearing a mask while outside of the resident's apartment in their community, and practicing safe social distancing at all times.

Welcoming outside visitors after they check-in with our Accu-Shield System, pass a verbal questionnaire of non-COVID-19 exposure, and present a normal temperature reading. Families and friends are then invited to visit in our outdoor courtyards and pavilions where we have set up specific areas for social visiting.

Implementing/adhering to sick leave policies are flexible and non-punitive for all staff members.

Encouraging residents to dine in our socially distant dining room, which adheres to current guidelines—allowing interactions that are good for the soul like a few laughs and fun conversation. However, room service is available if preferred.
Assigning a staff member to each resident who will ensure they are checked daily for fever or symptoms of the coronavirus such as sore throat, cough, shortness of breath, or muscle aches.

Providing hand sanitizer, soap, and towels for our residents, staff and guests throughout the community.
The Role of Testing
At COGIR Senior Living, we are strong believers that active precautionary asymptomatic situational testing is key to tracking down potential carriers and preventing further spread. It also shows how effective the combination of disinfecting, PPE and testing can be to tackle even a small outbreak, stop it in its tracks, and keep a community safe. Even before testing became easily accessible, we contracted with multiple private labs to enable widespread testing in our communities. We have been testing when we believe that a resident or staff member has tested positive outside of the community or has come in close contact with a positive carrier of the virus. To date, this approach has resulted in us conducting or arranging for over 2500 tests, and we will continue to conduct testing when we have indications that warrant it.
As a result of this approach, to date less than 2.4% of tests administered to our residents and staff members were positive, and those cases were quickly contained. . We will continue our diligent testing process, and will regularly share all updates with residents, family and staff.
The Process of Move-in
Many people are asking if move-ins are a good idea, or even possible during the COVID-19 outbreak. The short answer to both questions is, yes. By following the lead of experts, we have developed a move-in protocol to ensure the safety of existing and new residents. Virtual visits are a safe, helpful alternative to in-person tours, when needed. Once a move-in is scheduled, we will work with the incoming resident and their move-in team to ensure a safe, comfortable experience.
Our safe move-in protocol includes:
Movers and family must check in via our Accu-Shield Monitoring System and have their temperature taken
We require masks or face coverings at all times while inside our community
We ensure that furniture is properly covered and sanitized if necessary while traveling through the building
Our staff will sanitize the move-in path after move-in, including doors, elevators, and other surfaces
Cogir will implement other measures as needed, based on local or federal recommendations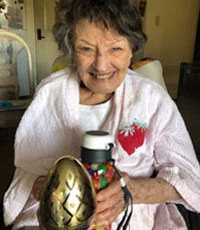 MARY WILLIAMS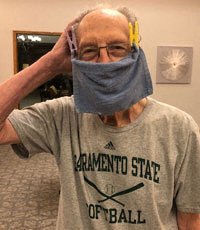 DEAN ANDERSON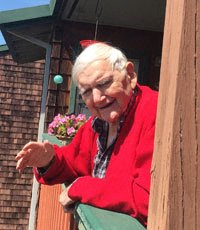 TED