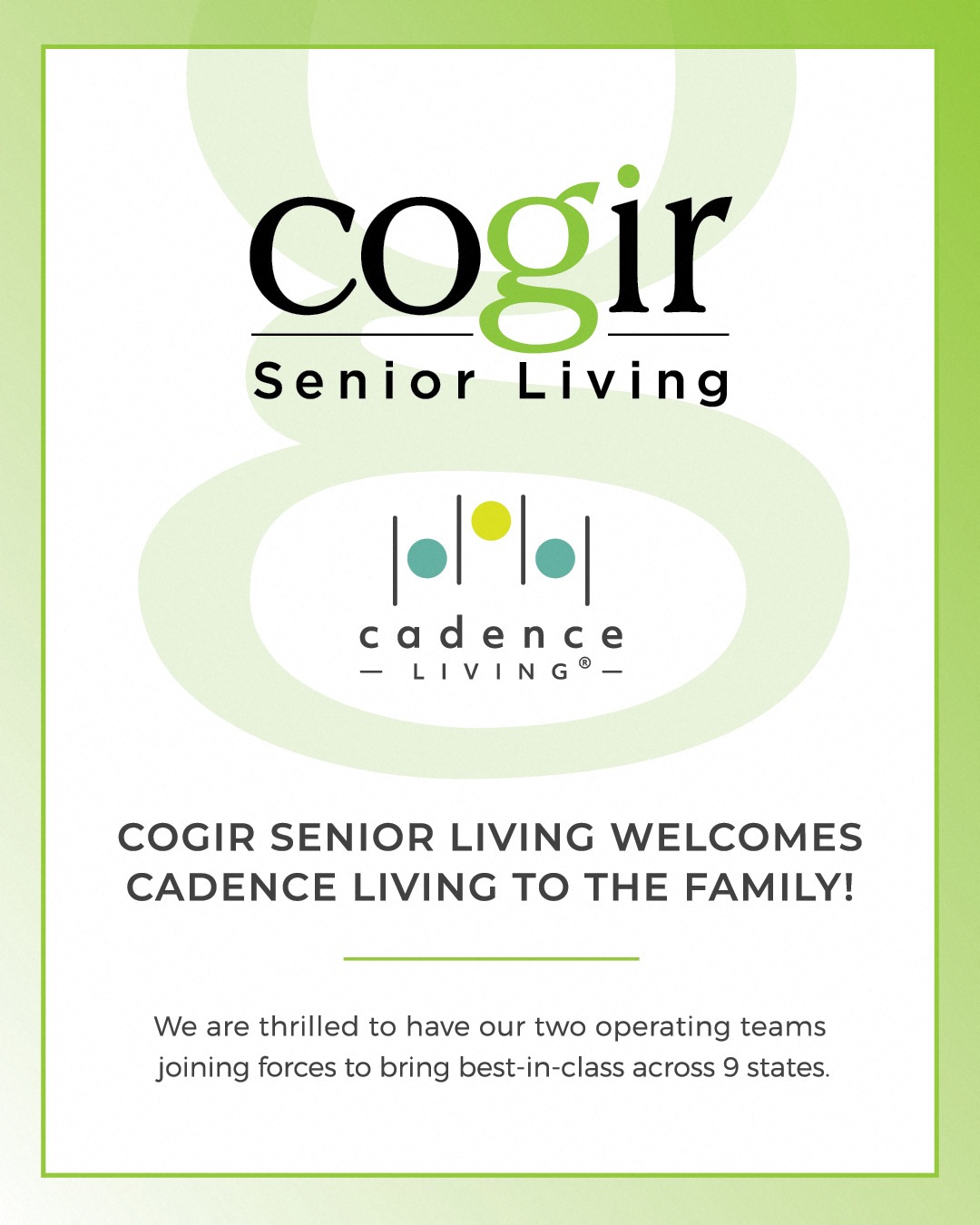 Cogir Senior Living and Cadence Senior Living are excited to announce a business combination whereby the two operating companies have merged their operating teams bringing the two best-in-class operators together. The transaction involves Cogir buying out the shareholders of Cadence, with the combination resulting in nearly 8,000 units in 9 states.
Cogir Management USA is the US-based subsidiary of Cogir Services LP, a Montreal based real estate company operating over 300 properties in Canada including over 70 senior living communities, in addition to other real estate holdings including multi-family, hotels, restaurants and retail centers. The US division was launched in 2018 with the acquisition of 12 senior housing communities in Washington and California and has grown to 25 operating communities with others under development. Cadence was founded in Scottsdale in 2017 and has since grown to operate 35 communities in 9 states with several additional communities coming on board through development in the coming months.
"What started out as a casual conversation between Dave and I, evolved into what we both felt was an ideal solution for both companies," said Rob Leinbach, CEO of Cadence, "the more we talked about it and the more we thought about it, the better it fit. We believe that the combined company will have the expertise, culture and foundation to be an industry leader in our space for years to come."
"The two companies are so complementary. As both companies were growing, both had challenges and skillsets that seemed to fill each other's gaps perfectly," said David Eskenazy, the CEO of Cogir Management USA, "but more than that, as we both learned more about each other's organizations, it became clear that philosophically we also shared so much in common culturally in the way we feel about our team members and what we believe our residents should experience."
"Rob and Eric have built an incredible organization and as Dave and I met many of the team members and visited communities together, it became clear to us that this was a terrific match. We are thrilled to join forces with them," said Mathieu Duguay, CEO of Cogir Senior Services, LP.
The resulting combination will have David Eskenazy remaining as CEO of Cogir with Cadence founders Rob Leinbach and Eric Gruber remaining as Sr. Vice Presidents indefinitely. During the transition Rob and Eric will provide integral assistance with the integration of the two organizations. Rob will assist David in portfolio optimization and strategic partnerships, while Eric will lead the design, development, and facilities aspects of the growth platforms. Cogir will continue to remain headquartered in the Sacramento area with additional offices in Seattle and Scottsdale.
The transaction closed today, November 1, 2022, with full integration of the operations expected to take place over the 2023 year.