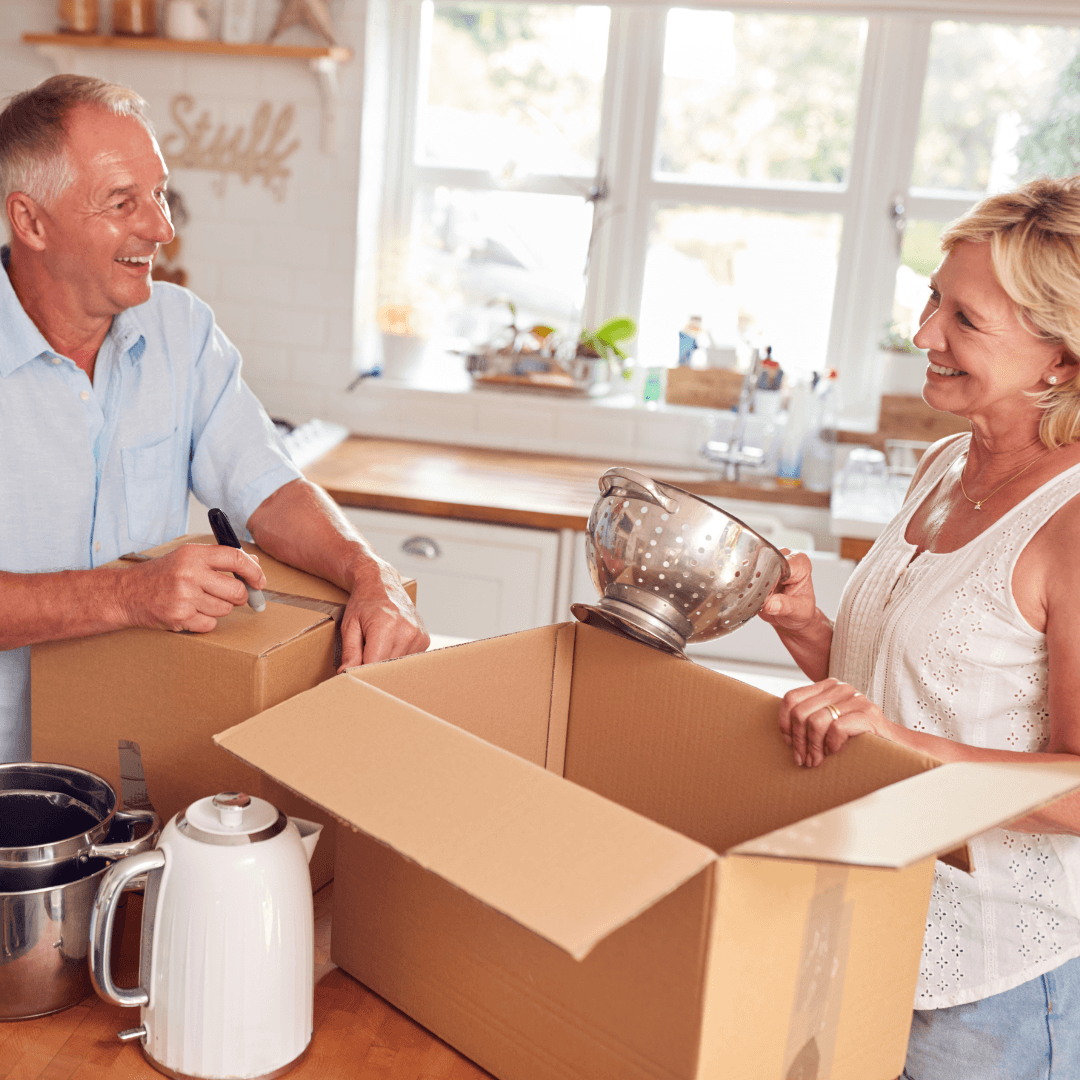 If you are making a move that requires some downsizing of your belongings — like transitioning into a beautiful and fun senior living community, for example — you may wonder where to begin. The prospect of downsizing may initially feel overwhelming. But it doesn't have to stay that way for long.
Here are some tips to help you tackle that project with confidence.
1. Visit your new home a few times before moving in.
Visualize where you will put things. Are there items you won't need anymore? Make a list of those things as you walk through the space.
2. Break your packing and moving plan down into steps that can be managed over time.
Pull out your calendar and determine what days you could tackle each task.

Who will you need to enlist for help with certain steps?

What supplies will you need? Which days will you need boxes and tape? Which days will you need donation bins?
3. Don't start with the sentimental stuff.
Try tackling the kitchen and tool shed first, for example. As you practice making choices for what should be donated, ditched, or packed, you may find it easier to move into other areas of your home where more sentimental favorites may reside.
4. Lastly, don't dispose of anything immediately.
Set aside what you are comfortable getting rid of. Keep it boxed up and out of sight. Wait a few weeks, or even months. After some time has passed you will be able to let those things go with confidence and peace.
Some extra advice when it gets sentimental:
There's nothing wrong with the attachment we feel to items tied to precious memories. But if you are hoping to pare down, there are strategies that may help.
Use it! If you've been storing something that you have felt was "too precious" to use, consider breaking it out and enjoying it. Whether it is a quilt handmade with love or a set of dishes your grandmother treasured, bring all that joy into your day-to-day life.

Digitize! Go digital with old photos and videos. Cards and letters can also be scanned to save space while retaining those beautiful memories. But, remember: it's about balance. Save that most precious letter from your sweetheart or loved one… It's about downsizing but not always eliminating entirely.

Give it away! There is a special joy in giving to others. Plus you can always enjoy those items when you visit your loved ones!
Organizing and downsizing belongings can bring up lots of emotion. But there's one emotion you should keep in mind as you go — it's excitement for the fun, friends, and new memories waiting for you in your new community!
Sources: https://rvinspiration.com/rv-life/sentimental-belongings/